Why Text Messaging Should Be A Part of Your Marketing Campaign AND How to Implement It
Text messaging is one of the few underutilized areas in marketing campaigns.
According to one study, 64% of consumers believe businesses should be using text messaging to stay in touch with customers more than they currently do.
Mobile engagement is one of the most powerful methods to strengthen your relationships with your customers.
So why should text messaging be part of your marketing campaign and how should you implement it?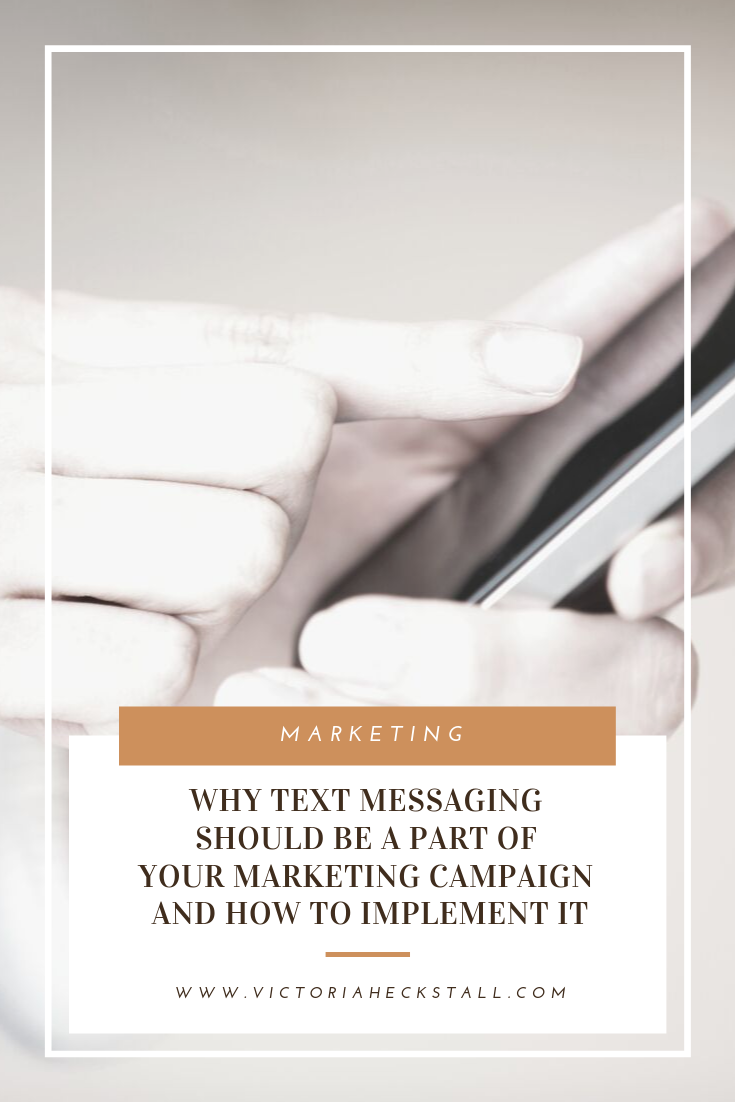 Reasons why text messaging should be a part of your marketing campaign
Your customers want you to reach out to them via text messaging.
Here are five reasons why your customers want you to implement this digital marketing strategy and why you should want to.
You can send out coupons and deals that will actually get seen
Did you know that 134 million US mobile users will use a coupon this year?
Plus, with the number of people shopping via their smartphones always increasing, now is the time to promote your coupons and deals to your target audience via text messaging.
They're already shopping from their devices and looking for coupons and deals, so why not make it easy for them by eliminating the process of them having to search for coupons when shopping on your site.
You can send personalized text messages
There's nothing worse than for a customer to believe they're just another number.
They want to feel like their business matters to you, which is why so many people are all for supporting local and small businesses these days.
In fact, 86% of consumers say they're willing to pay more for great customer service.
Personalized text messaging can help you do just that.
You can keep customers in the loop
Sure, emailing your subscribers can be a great way to keep customers in the loop.
However, these days the "zero inbox" is becoming a trend and your emails are probably being deleted before being opened due to obsessions with having uncluttered email inboxes.
Furthermore, many consumers have developed what's known as "the fear of missing out", which keeps them constantly checking their text messages and social media platforms.
Loyal customers want to know what's going on with your brand and they probably check their text messages frequently, so this works in your favor.
An investment in an SMS messaging platform will pay itself off after your first few text messaging campaigns.
You're forced to create engaging content
If you want your text messaging campaigns to be a success you must only reach out when you have something to say that your customers want to hear (that is unless you want a large portion to unsubscribe from your list).
Furthermore, you'll have a limited amount of characters to work with as it's not like an email newsletter where you can be as long-winded as you want.
This restriction is a good thing, though, as it forces you to create SMS marketing campaigns that provide information that your customers care about and will engage with.
You can decrease the likelihood of losing a loyal customer to a competitor
People are busier than ever before. These days the average American employee works 47 hours per week.
In other words, people don't have time to visit your store, website, or app for further information. Make their lives easier and send information to them.
Show how much you value the time of your customers by doing the heavy lifting for them through SMS marketing.
If you don't, even that customer who's been with you for years will move on to one of your competitors that makes their lives easier.
People pay for convenience these days.
How to implement text messaging into your marketing campaign
Implementing text messaging into your marketing campaign is easier than you're probably thinking.
However, the trick is to make sure that you're doing SMS marketing the right way.
With 15 million texts being sent every minute, you want to make sure you don't get labeled as spam.
Step One – Collect mobile numbers and build a list
Your first step is to collect the mobile numbers of your customers. Unlike an email address, not everyone is going around handing out their numbers.
However, get creative during this step.
Maybe you offer customers an exclusive discount for joining or enter them into a raffle.
Make it clear that your SMS subscribers are an elite club. Let them know they'll know about things first and receive quicker customer service.
Upon joining your list, they should be looking forward to receiving their first text message from you.
Step Two – Make sure you know the laws regarding SMS marketing
Your text messaging campaigns must obey the law, and that includes the way you store customer data.
You must obtain consent from the customer before you send a message, and every message must have a clear option to unsubscribe.
Also, remember your customer may not have an unlimited roaming service included or even an unlimited text messaging plan. Therefore, you need to make it clear they may be paying for your marketing messages depending on their cellular plan.
Finally, you must consider when you send messages.
If you send messages at what would be considered an inappropriate time you could open yourself up to legal action, as well as irritate your customers – save those early mornings and late-night messages for your email marketing campaigns.
Step Three – Utilize A/B testing to see what works
When you begin your text messaging campaign it's going to require a lot of testing.
A/B testing will show you how you can make your campaigns more efficient and effective.
I recommend taking advantage of a third-party service to accurately track your results. That way you can see all your results at a glance and make intelligent decisions on what works and what doesn't.
Conclusion: Texting messaging should be a part of your marketing campaign
Text messaging as a marketing tool offers another avenue you can exploit in order to build strong relationships with your customers.
However, when launching your campaign, you must consider the user experience. Try to put yourself in the shoes of your customers.
Would this be the type of message you would want to receive if you were in their situation?