← Back to portfolio
How to Manage Your Brand's Social Media Accounts with an Hour or Less Per Day to Commit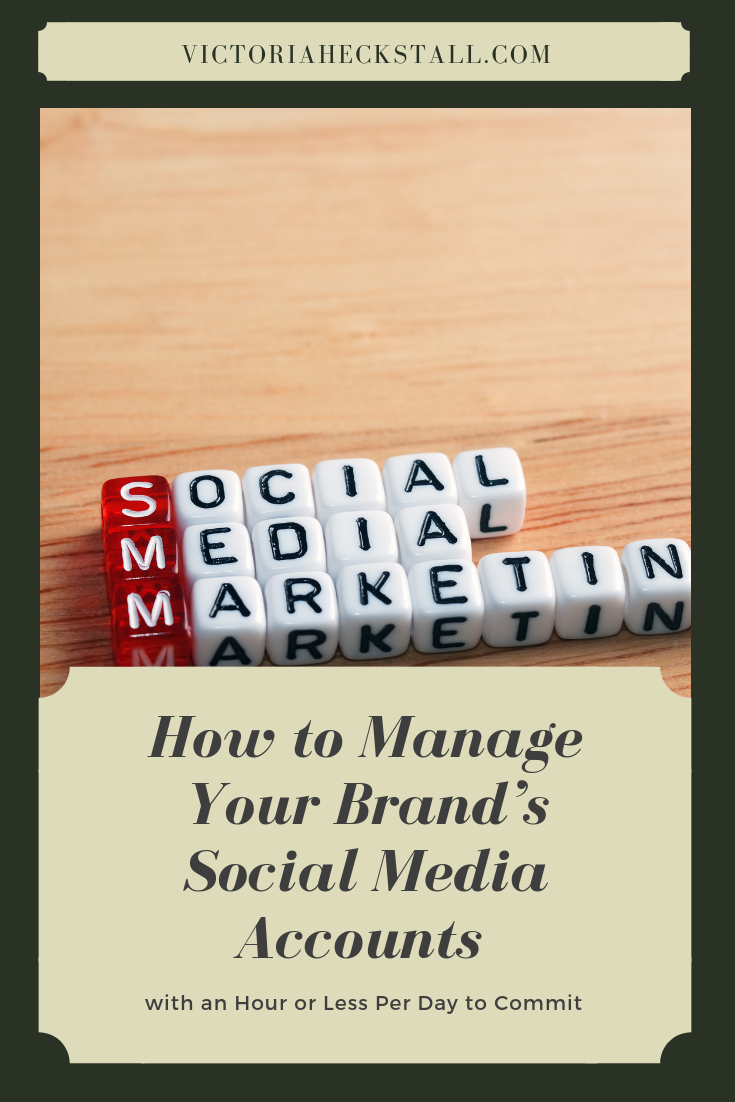 Social media is essential for small businesses. It's estimated that 77.6% of small businesses use social media to promote their companies. But social media can be a real time sink.
It's possible to manage your brand's social media account, even if you're pressed for time. You just need a schedule and a way of doing things. Too many business owners waste most of the time they spend on social media management.
This guide is going to show you how you can manage your brand's social media account with an hour or less per day to commit to it.
Spend 5-10 Minutes Finding Content to Share
It's estimated that 81% of millennials check Twitter at least once per day. You need a constant stream of content if you're going to keep people interested.
So how do you find content to share that's going to engage others and lead to more promotion for your brand?
There are a few ways you can do that. For a start, you can use social media and share anything you think your audience will find interesting. The same goes for any newsletters you happen to have sitting in your inbox.
I also recommend trying out Google News. Topical and timely content can help you to latch onto trends.
Another thing that works for me and my social media management clients is to use the information that comes into my email from press releases. It's timely info and it allows you to show that you're up on the latest buzz.
Lastly, if Pinterest is a huge traffic source for you consider investing in Tailwind. There you can schedule out pins from Tailwind Tribes, add your pins to tribes for additional impressions, and even utilize the Smart Loop feature to put your Pinterest marketing strategy on autopilot.
Spend 10-15 Minutes Creating Content
You shouldn't just rely on the content of others to generate interest in your brand's social media account. You should also take the time to create your own content.
As a general rule of thumb, 20% of the content should be original and 80% should be relevant content shared from elsewhere.
Make sure you take the time to research relevant keywords and hashtags, so the right people are seeing your content.
Spend 5-10 Minutes Creating Photos
Content is king, but photos are far more valuable than any other type of content, except video. It's due to the sheer volume of mobile traffic, where most people won't take the time to read through 10 minutes of content.
But how do you create a great photo?
Believe it or not, you don't need to spend a huge amount of time creating photos. Look at what professional news sites do. They're rarely particularly appealing and they look like they were made in a few minutes.
That's because they were.
You don't need to be a graphics whizz to create great photos. Simple to use software's, like Canva and PicMonkey are perfect for giving you the tools needed to create awesome thumbnails.
Do remember that if you do have time to take your own unique photos you should. These stand out the most and increases the amount of unique content you have on your social media feed.
Spend 5-10 Minutes Scheduling Content
The time content goes out is something all small business owners argue over. There are some limited studies that say the best day to release content is Tuesday and you should avoid publishing content during the weekends. Although some of these trends have some element of truth, most of these studies are flawed.
You shouldn't agonize too much over when your content goes out. However, if you're limited by time you need to ensure that your content goes out even when you're not there.
CoSchedule and Sprout Social are two of my favorite pieces of software for scheduling your content. All you need to do is publish your content and schedule it via one of these platforms.
Once the right time hits, they will automatically go out.
On a side note, these are worth far more than just the scheduling features. Many small businesses use software like Sprout Social to manage all their social media actions.
For example, you can use them to monitor your social media comments and perform the actions from the platforms themselves.
Last Word – Managing Your Social Media Accounts Made Easy
If you adopt this schedule, you'll find you're much more efficient at managing your social media accounts. Sometimes it can be easy to get consumed by the sheer amount of content assaulting you every time you log in to social media.
You'll know exactly what you need to do daily, and you won't waste too much time doing it.
Are you struggling to manage your brand's social media account? If so, schedule a consultation with me regarding my social media management services.