5 Benefits That Come with Being Interviewed for An Article Feature
As an entrepreneur or small business owner, there's a good chance that you've seen people in your industry featured in articles that are published in an interview format. You may have even had some journalists or bloggers reach out to you asking for quotes or if you'd be interested in having an interview published on their website.
Before you delete any more of those emails or turn down another interview/featured article opportunity, consider these five benefits that can result from being interviewed.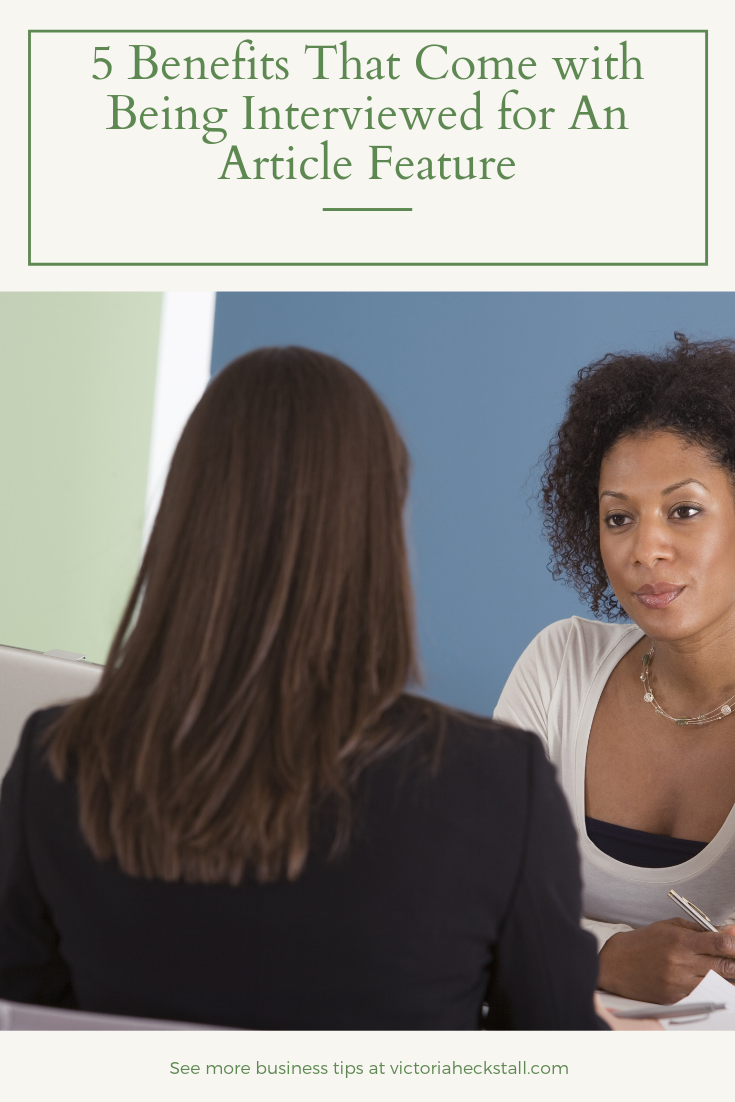 Reach a New Audience
Let's face it, getting your name out there isn't easy.
You may have successfully built up an quality and loyal audience to keep your business cash flow flowing in each month, but are you feeling at a standstill when it comes to attracting new clients or customers?
If so, being interviewed could be what you need to help get new leads flowing in again.
When your interview/featured article goes live you will reach the audience of that publication. Each article feature that you're interviewed for gives you the opportunity to connect with people you would have never otherwise reached.
Connect with Your Current Fan Base and Develop a Stronger Relationship
Your content marketing strategy should already consist of reaching new audiences. However, as you aim to find new customers or clients, it's important that you don't forget about your current fan base.
So, how can you connect with your current fan base from being interviewed in a featured article that's being published somewhere other than your website?
This is another benefit of article features – you have had free content created that you can share with your audience!
The publication that published the feature, wants you to share it. They want to bring in more readers to their publication and in return, you get access to their fanbase and you're able to share new content with your current fan base.
For example, you can send out a newsletter inviting your subscribers to get to know you on a more personal level and direct them to the feature article. You could inform social media followers that you've shared some insider secrets in an interview.
The options are pretty much limitless as you have the content created for you to share and you just must tell your already built audience about it.
Sell Yourself Without Coming Off as an Ad
People hate ads, it's no surprise. However, with article features on other publications sites, you get to sell yourself without coming off like an ad. These publications have already built up a readership of people who look forward to reading about the people behind the business.
With an article feature you have the chance to give folks an inside look inside of your personal life, tell the story about how and why you started your business, and even come off as being an authority in your niche by giving them actionable tips and advice.
More Exposure for Less Work
Anyone who has ever tried to market themselves online is perfectly aware that getting exposure is your greatest challenge.
Article features are perfect because you do very little. Sometimes you might only have to answer a few questions, which takes no longer than five minutes.
A week or so later you're in an article feature and being exposed to a completely new audience. How much work did you put into that?
Getting featured elsewhere is one of the best ways to gain exposure while putting in almost no effort. You don't need any original content. You just must talk about yourself.
So, don't be afraid to get out of your comfort zone and look for opportunities for feature articles.
Bonus: Sites to Be Interviewed On
While you may see lots of featured articles and interviews showing up in your feeds on social media, you may be wondering if there's a way around waiting for journalists to reach out to you with these opportunities.
The good news is there are sites where you can submit your answers to interview questions and have your first interview article feature live as soon as next week.
Here are a few websites to get you started.
Hobby Jam features interesting people. You answer their interview questions and they'll have it created and published for you within 90 days.
The idea behind it is to highlight what's interesting about you. They don't focus on a specific niche but a range of different areas.
Anyone who does something interesting, such as crafting or gardening, will find their audience on Hobby Jam.
If you're an interesting person, Hobby Jam is an excellent way to gain exposure.
IdeaMensch is a crowdfunded platform dedicated to getting exposure for entrepreneurs. If you have an interesting entrepreneurial story, IdeaMensch is the place to be.
They don't turn down any entrepreneur, so you don't need to worry about stuffy editors and strict requirements.
However, you don't have control over the questions. They supply 16 different questions that you must answer.
Typically, interviews take around three months to publish. However, IdeaMensch does feature entrepreneurs from the unknown to the famous, so expect to get some great exposure here.
The Crazy Mind holds interviews with interesting people from all over the world.
If you're involved in a small niche, it can be difficult to find places that will feature you. Not so here.
The Crazy Mind is one of the bigger interviewing sites available. They claim to get millions of visitors to their interviews.
Superb Crew is all about the world of business. They're a mix of news and interviews, so you'll hear about major capital acquisitions and you'll find interviews with the hottest entrepreneurs around the world.
It's more difficult to get featured on Superb Crew, but if you're a truly unique, dedicated entrepreneur they'd love to have you.
As you might expect from the name, Inspirery is looking for inspiring stories.
Did you make it through a tough childhood to become a success? Have you overcome financial trouble to create a great side hustle? Then they'll want to hear about it.
Inspirery makes it easy for you to submit an interview. All you need to do is download the document and then fill in the questions. Upload it and enter your social media information and you're good to go.
Bonus: Tools to Help You Secure Interviews
The only downside of securing your own interviews is it takes time. Plus, it somewhat limits the number of available platforms that you can guarantee a feature on.
Let others do the hard work by having people come to you for interviews. As part of your second bonus, here are two different tools you can take advantage of to help secure your interviews.
HARO stands for Help a Reporter Out and is designed as a sourcing service for bloggers and journalists.
The problem most journalists have is needing to deal with deadlines, so they don't have time to carry out a full research project. HARO is there to distribute journalist queries. The goal is to pair sources with queries.
It takes the hassle out of sourcing, so by joining HARO you have the potential to be picked out by a journalist.
It's not uncommon to be picked up by major publications. Big media organizations use HARO to cut the time it takes to compile an article.
They do offer a free service, where you'll receive media pitching opportunities in your inbox each day. But if you decide to pick up a subscription you can get keyword alerts, extra lead time, and personalized support from HARO itself.
There are three subscription levels, with the most expensive costing $149 per month.
The free subscription is still incredibly useful, though, particularly if you're just getting into the business of securing interviews.
Source Bottle is a lot like HARO. The idea behind it is to give free publicity to sources and provide an easy avenue for journalists to pick up sources and studies.
All you need to do is sign up to the service and wait for the journalist queries to come to your inbox. It's completely free to sign up.
You'll start to receive email alerts from Source Bottle about current source requests. When you sign up, you'll be asked to add in your topics of interest, so you'll never receive any requests that aren't relevant to your field.
Then you just click on a source request that interests you and begin communicating.
It's that easy to get credited as a source in a feature.
Source Bottle has a catalog of prestigious publications that work for them. So, you know that you have the chance to be featured in major publications.
Final Thoughts: Start Getting Interviewed for Feature Articles This Month
As you've probably realized by now interviewing for featured articles comes with a ton of benefits and no real downsides. For the most part, the only investment you'll have to make is your time and the rewards can result in an increased business income for you.
Have you ever been interviewed for an article feature before? What type of results did it bring you?