10 Financial Challenges You May Face Your First Year of Self-Employment
Self-employment is a challenging adventure for anyone. Right now, there are 16 million Americans who are self-employed. Millions have already taken the same path you're about to.
One of the big reasons why an entrepreneur fails is because they run out of cash. They manage their finances incorrectly. Approximately 29% of small businesses fail as a result of this.
Here are 10 common financial challenges you may face during your first year of self-employment AND what you can do to overcome them.
See Also: Things to Remember When You're Self Employed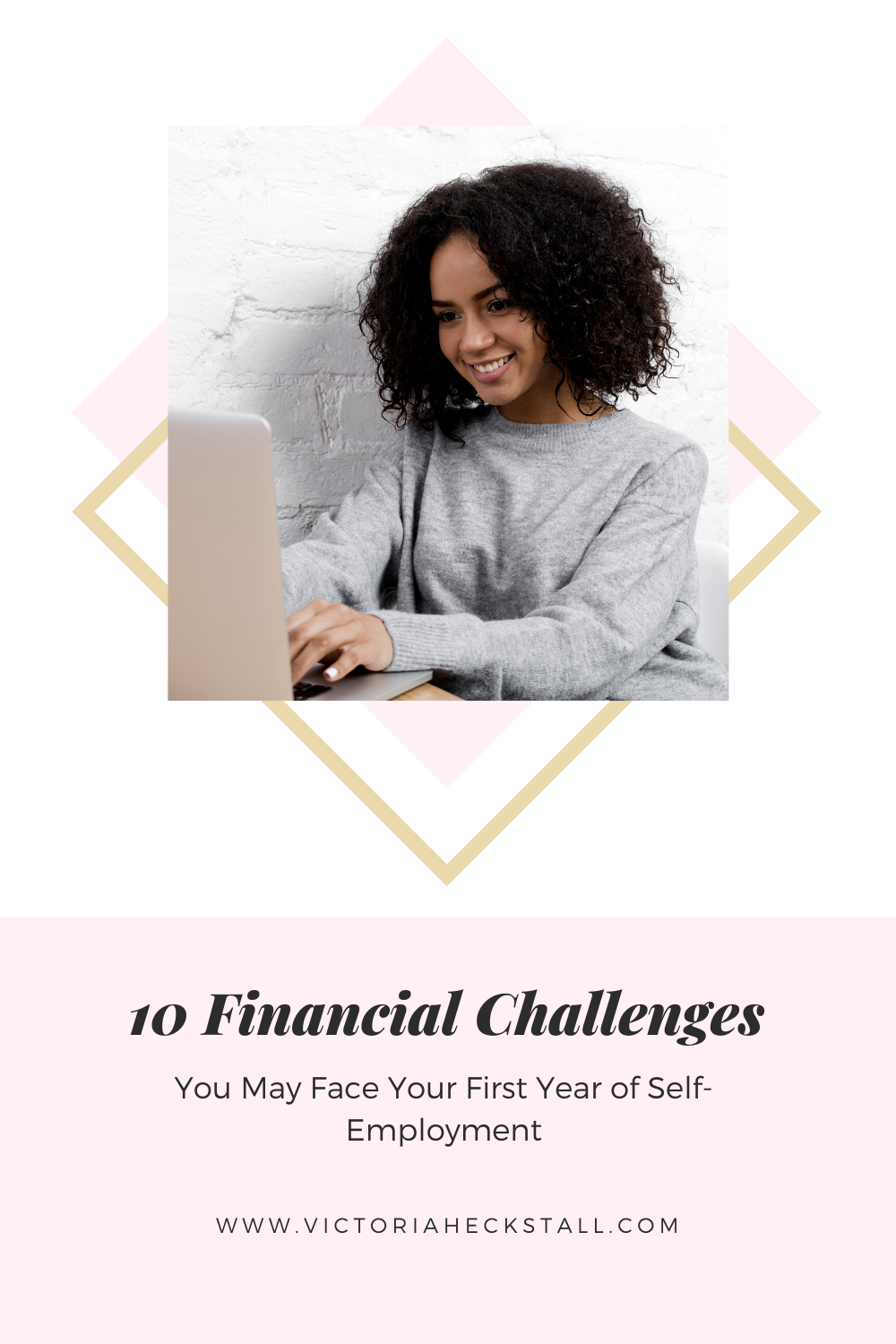 Having to Estimate Your Own Taxes
As someone who's self-employed, you'll need to estimate your quarterly taxes because taxes aren't being withheld by an employer.
IRS 1040-ES is the form you'll estimate your taxes on.
During your first year of self-employment, you'll have to guess based on how much you're projected to make. However, in the future, you'll be able to estimate your taxes based on what you earned the prior year.
See Also: Tips For Filing Taxes When Self Employed
Not Knowing How Much You'll Make Each Month
Some months it may be possible that your expenses exceed your income, particularly if you have a bunch of annual bills coming in at the same time.
Diligent saving will ensure you have no problems overcoming months where your expenses outweigh your income.
Feeling Overwhelmed by Taxes
It's easy to feel overwhelmed by taxes. You have more responsibilities than someone working a normal 9-5 job.
You also need to remember to take into account self-employment taxes, which you never had to do before.
Your first year being self-employed it may be a good idea to get help from a tax expert instead of trying to wing it alone.
Getting Penalized When Filing Taxes
Filing taxes late, not paying on time, not paying your estimated taxes, and getting your tax return wrong are all reasons why the IRS may decide to penalize you.
For a small business, these fines can really add up. That's why you should get professional help your first year filing taxes as a self-employed person.
The Inability to Get a Loan
Getting a loan when self-employed is extremely tough. You don't have a guaranteed income and lenders know how quickly the business landscape can change. If you can get a loan at all it typically comes with high-interest rates.
So what can you do?
There are loans available that are aimed at self-employed people. These are known as self-employed loans and they come from lenders who specialize in giving loans to the self-employed.
Visiting a specialized lender who really understands the realities of self-employment can increase the likelihood of getting approved for a loan during your first year of self-employment.
As time goes on, you'll find that more options come available such as working capital loans.
Having to Set a Business Budget
Did you know that 61% of small businesses in 2018 didn't create a budget?
You can't manage your finances correctly without a budget. You need to know about your sources of income and what you're spending your money on. If you don't, you're going to run into cash flow issues.
It's easy to create a budget. All you need to do is list your expenses and list your incomings. Then you can add in any potential expenses if you're looking to invest in your business.
It's simple and it can all be done on an Excel spreadsheet or a financial app.
Having to Constantly Review & Analyze Your Finances
Unfortunately, there's no way of getting around this.
When you're self-employed you'll need to spend a considerable amount of time reviewing your finances. Just because you have a budget doesn't mean it's on track.
The best way to handle your ongoing finances is to update it as you go. If you buy something, write it down immediately.
Rather than having to set aside an entire day sometime during the month, updating your finances as you go will help to spread it out. Reviewing and analyzing your finances will no longer be a chore and you won't receive any nasty surprises.
Having to Learn How to Keep Personal and Business Finances Separate
Trying to unpick personal and business finances when tax season hits can take weeks.
This is why you should always have a business account of some kind. It's the easiest way to keep personal and business finances separate.
Additionally, you should also be paying yourself a salary. This allows you to take care of your personal bills while also keeping money available for your business expenses.
Lack of Income Evidence
Sadly, nobody is going to take you at your word when it comes to your income. Whether it's finding a place to rent, getting a mortgage, or getting a car loan they'll ask for an example of income evidence.
When you're self-employed it's near impossible to prove this because you don't know how much you're going to make every month. Plus, during your first year of self-employment, you won't have filed your tax returns as a self-employed person to show official statements.
As time goes on, it's a good idea to build up a solid income history. This is why it's so important to pay yourself a monthly salary to show consistency.
It's wise to look for lenders who have a history of dealing with the self-employed. You just have to accept that there are some lenders who simply won't deal with self-employed people without putting unfavorable terms on any loan.
Conclusion: You Can Overcome The Financial Challenges You Face During Your First Year of Self Employment
Mastering business finances is an unavoidable part of being a successful entrepreneur. The key is to make a plan and to stay on top of everything.
If you can't do something, don't guess or try to do it anyway. Hire a professional to help you out. A professional accountant doesn't have to cost you thousands of dollars.
When you take control of your finances, you can get on with the more important task of making more money.
What's the biggest financial challenge you've faced as a self-employed person?